Today, we are at your service by teaching how to prepare cordon bleu, which is a simple and quick dish. Because of its appearance, this dish can attract the attention of your family members, so be with us and prepare cordon bleu at home.
Introducing Cordon Blue
Cordon Bleu is one of the most popular and delicious international dishes, whose origin goes back to Europe. This dish is actually a type of fast food that is very similar to schnitzel and how to prepare it at home is very simple. Cordon Bleu is prepared from a combination of chicken breast, ham, eggs, breadcrumbs, pizza cheese and spices.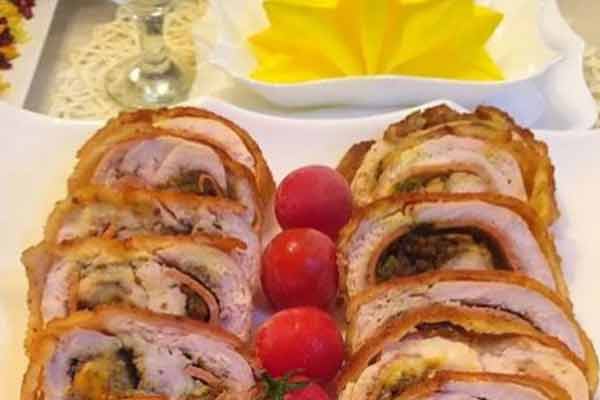 This delicious dish means blue ribbon in French, but in cooking it is called chicken meat, with ham and pizza cheese in between.
Chicken breast is usually used to prepare cordon bleu. Of course, it should be noted that there are different types of Cordon Bleu that are cooked with both chicken and red meat. This food can be found frozen and prepared in stores and supermarkets, but it is better to prepare it at home to make sure that your Cordon Bleu is healthy.
Cordon Bleu is prepared quickly and because of its attractive appearance, it can become a great meal for your parties and gatherings.
History of Cordon Bleu
Cordon Bleu is actually a type of schnitzel stuffed with cheese and ham, the recipe of which was first seen in a Swiss cookbook in 1949. There is an interesting story about the origin of this dish. In the early 19th century, two large groups of people showed up at a restaurant at the same time and claimed that both groups had reserved a table.
Because at that time the cook was not able to prepare enough meat for both groups and also wanted to avoid chaos in the restaurant, an idea of thinly slicing schnitzels and stuffing them He came up with ham and cheese before frying. The owner of the restaurant was very happy with the idea he had come up with, because with this he could satisfy both groups.
In English, a cook or a skilled person who is highly skilled in his field of work is called cordon bleu. For this reason, the name of this dish was named due to the intelligence and skill of the chef in the Cordon Bleu restaurant menu. Over time, the Cordon Bleu recipe spread among people and this dish became an excellent choice for people's daily meals.
Cordon Bleu preparation time table
Preparation time 80 minutes
Cooking time 20 minutes
extra time —
Total time 100 minutes
Serves 2 people
The amount of cedar
Ingredients for the preparation of Cordon Bleu
1 chicken breast
2 eggs
5 slices of chicken or meat ham
1 cup of white flour
1 cup of bread flour
2 tablespoons of mustard sauce
Sliced Gouda cheese as needed
Lemon juice as needed
Salt and black pepper as needed
Garlic powder and thyme powder as needed
Teaching the steps in how to prepare cordon blue
First step: preparing the chicken
In the first step, first wash the chicken breasts and remove the bones with the help of a knife and cut the chicken breast into fillets. Then divide the chicken breast into several equal parts and put a bag over it and pound it well with the help of a meat grinder until the chicken breasts are completely thin and wide.
Second step: rolling the chickens
Dip the chicken slices in salt, black pepper, thyme, garlic powder, lemon juice and mustard sauce until it tastes good. Place a sheet of cellophane on the work surface and place a piece of chicken on it. Then put a sheet of ham and a sheet of cheese inside the chicken and roll it with the help of cellophane so that the ingredients are completely compressed. Do this with the rest of the ingredients and put the prepared chickens in the refrigerator for at least 60 minutes.
Third step: frying
Choose three suitable containers and break the eggs in the first container and mix it well with the help of a hand mixer or a fork until they get out of the lumpy state. In the second container, mix flour with a little salt and thyme and set aside. Put breadcrumbs in the last container and set aside.
After one hour, take the chicken rolls out of the refrigerator and open the cellophane. Then each of the rolls is placed in flour, egg and breadcrumbs until they are completely coated with the ingredients. Pour oil in a suitable pot and wait until the oil is hot.
Put the chicken breasts in the pot until they are completely golden and fried. Remove the excess oil from the crystals with the help of a napkin and serve them.
How to prepare cordon blue
This clip was taken from an Instagram page : chef_mehranfooladi73

Important tips on how to prepare cordon blue
You can use pizza cheese instead of sliced cheese according to your taste.
Note that the chicken rolls should be wrapped tightly so that the appearance of the food is not damaged during frying. After rolling the chickens, you can put a toothpick on them so that they are well rolled and shaped.
Note that in order to prevent your chicken from getting punctured and torn, it is better to wet it a little and hit it from the inside of the meat.
It is better to use coarse breadcrumbs to prepare cordon bleu because the texture of this food will be better after frying.
You can prepare cordon bleu in the oven without oil. First, set the oven to 200 degrees Celsius and place it inside a foil tray. Place the chicken rolls on the oven tray and apply a little oil on them with the help of a cooking brush. Then put the tray in the preheated oven and wait until the chickens are fully cooked and their color turns golden.
In order to increase the color and aroma of your chicken, you can pour a little brewed saffron on the chicken before placing the ham and cheese.
You can also use cordon bleu as a simple finger food. For this, it is necessary to chop chicken breasts and hams into smaller sizes and fry them for about 30 minutes before serving.
In order for cordon bleu to be completely cooked, it is better to fry it in a lot of oil.
Properties of cordon blue
Chicken breast is a complete source of vitamins and minerals such as phosphorus, protein, selenium, niacin, vitamin B6 and B3. Chicken breast has very high protein and low calories, and for this reason, its consumption can make you feel full throughout the day and prevent people from overeating.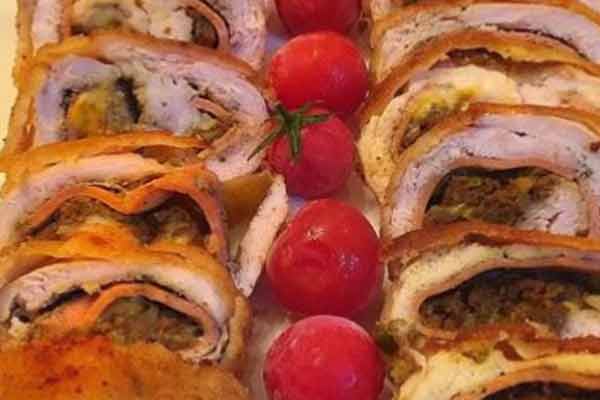 Also, chicken breast provides the necessary energy for tomorrow during the day and helps bodybuilders and athletes to build muscle. Vitamin B3 present in this food has anti-cancer properties and prevents the occurrence of Alzheimer's disease in people.
Final words for Cordon Blue
Serve cordon bleu hot and it is better to serve it with tomato sauce or any kind of sauce you like. As mentioned, Cordon Blue Valley is a delicious and tasty finger food.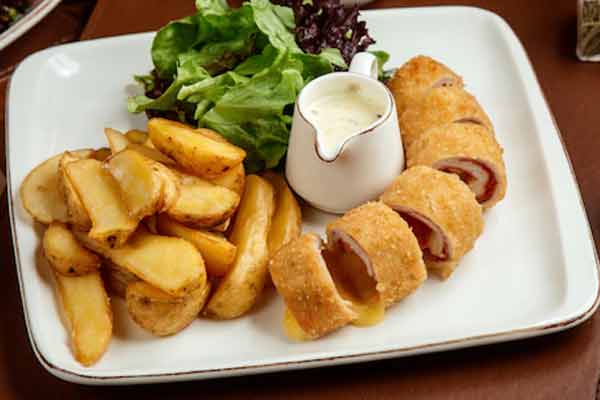 Be sure to try to use fresh and organic ingredients. Especially vegetables and summer vegetables. Fresh and organic raw materials make your food high quality and give your food a unique taste. Be sure to use special dishes to serve this delicious food. Pay attention to the variety of colors and be sure to use summer clothes next to the tray.
One of the most important tips in cooking is to first know what the purpose of the work is and then how many people you will cook for. In the next step, be sure to write down the work steps and the amount of raw materials available on a sheet and do exactly what needs to be done. This will increase work mastery.
Be sure that nothing will be forgotten with this method and everything will be exactly as it should be done. 1TouchFood online cooking training center will always provide you with the best training and help you in the field of cooking training.
The nutritional value table and the list of types of Iranian foods and the analysis of Iranian foods are also very readable. You can also participate in cooking courses. Wishing you great cooking
Be sure to install the online cooking training application and use it as a digital cookbook.
1TouchFood: cooking site
Cordon Bleu recipes for 4 people - آموزش آشپزی آنلاین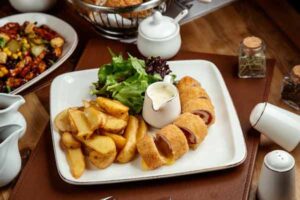 Cordon Bleu recipes for 4 people best recipes for providing cordon bleu in home. dont forget cordon bleu that this recipes. chicken Cordon Bleu
نوع: main dish
سبک آشپزی: French
کلمات کلیدی: Cordon Bleu
بازده دستورالعمل: 4
کالری: 590
زمان آماده سازی: PT1H20M
زمان پخت و پز: PT0H20M
زمان کل: PT1H40M
اجزاء دستورالعمل:
1 chicken breast
2 eggs
5 slices of chicken or meat ham
a cup of white flour
a cup of bread flour
2 tablespoons of mustard sauce
Sliced Gouda cheese as needed
Lemon juice as needed
Salt and black pepper as needed
Garlic powder and thyme powder as needed